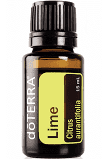 Known for its distinct aroma and taste, Lime Essential Oil provides cleansing benefits when taken internally or used topically—making it the perfect oil for purifying skin, air, and surfaces.
Lime cleanses the heart, especially when there has been an accumulation of toxins due to avoidance or repression. 
Diffuse for a refreshing and stimulating aroma. Blends well with Cilantro, Balance, Peppermint and Vetiver essential oils.
Try as a subtle flavour replacement for lemon in recipes.
Add a drop of lime to your drinking water for an enhanced flavour.